This is real. This is love. This is
life.
This Is Us is an American family drama television series created by Dan Fogelman and aired on NBC. The series follows the lives and families of two parents and their three children in two separate timelines, past and present.

Everyone has a family. And every family has a story. This Is Us chronicles the Pearson family across the decades: from Jack and Rebecca as young parents in the 1980s to their 40-year-old kids, Kevin, Kate, and Randall as they search for love and fulfillment in the present day. This grounded, life-affirming dramedy reveals how even the tiniest events in our lives impact who we become, and how the connections we share with each other can transcend time, distance, and even death.

This Is Us premiered on September 20, 2016, and its sixth season premiered on January 4, 2022.
Characters
Featured Video
Episodes
Season 6, Episode 18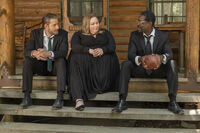 "Us"
The Big Three come to new understandings about life.
Aired May 24, 2022
About Us
We are a collaborative online encyclopedia on everything surrounding the hit NBC series This Is Us. Created by people like you, this wiki is dedicated to creating a comprehensive resource and providing online community for fans of the show. Want to get involved? You can sign up for a free account to start editing today!
News
Live Tweets